About Clan Crest Badges
We've been making Clan Crest Badges for Over 30 Years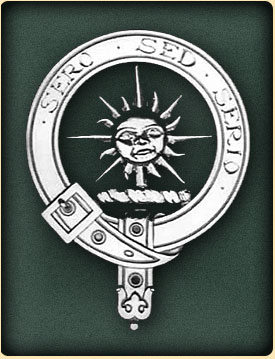 Don Kimble had been designing and making custom jewelry for over ten years when George Carr came to visit his shop. Dressed in his finest highland attire, Mr. Carr was the picture of a Scottish gentleman. He wore a quality worsted wool kilt and tailored Argyle jacket, a finely tooled leather sporran draped below his belt and the carved handle of the skean dhu tucked into the top of his right stocking appeared to be a work of art. However, Mr. Carr was not satisfied with what should have been the crowning touch to his attire - the Scottish clan crest badge attached to his balmoral. The poor detail and electroplated finish of the clan crest badge he wore seemed to be in stark contrast to the quality and good looks of everything else he wore. And there it was atop his head for all to see!
Mr. Carr commissioned Mr. Kimble to make a Clan Carr crest badge of proper size and weight in solid sterling silver. It was to have fine detail, a highly polished finish and a motto that was engraved into the sterling. It would be a quality piece of jewelry, worthy of passing on to generations of Carrs to come. Mr. Carr was so happy with his crest badge that he proceeded to tell all his family and friends, even strangers that he met at Scottish games. Requests for Scottish Clan crest badges (and now Irish Clan crest badges) began to pour in. Although it was necessary to implement some new production methods to help speed the craftsmanship, all of our clan crest badges are still made by hand one at a time.
Today, over 30 years after Mr. Carr's initial order, and after hundreds of sales to Scottish and Irish Clan members all over the world, we now have over one hundred fifty different Scottish clan crest badges in stock and continue to add new ones upon request. With our company no clan is too small to have its own quality crest badge.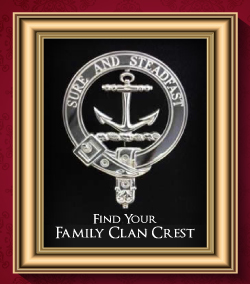 Own the best Scottish Clan Crest Badge available today. Our line of high-polished solid sterling silver Scottish clan badges are individually crafted and includes hundreds of Scottish clan names. Representing both Scottish clans and Irish clans, the detail and heraldic accuracy of our fine cap badges is unmatched. We are proud to create heirloom quality crest badges of solid sterling silver that will honor and celebrate your Scottish clan heritage for generations to come.
No Clan Too Small to Have its Own Quality Crest Badge
Scottish families have relied on us for their Scottish family crests for over three decades and although we currently have hundreds of different Scottish clan names in stock, we continue to add new clan crests upon request. No Scottish or Irish clan is too small - all deserve their own quality crest badge. If you don't see your clan name or family name listed in our list of clan badges we encourage you to contact us so we can make yours the first of your family's crest badges.
Pride in Crest Badge Craftsmanship
Attention to detail and a high polished finish is what makes our Scottish clan crest badges stand out from the competition. Unlike other clan crest cap badges that are cast in a one-step process our crest badges require multiple steps to achieve the exacting clan crest detail framed by the smooth and highly polished strap and buckle common to all Scottish clan badges. Every crest badge we make is crafted of the finest solid sterling silver available or you can special order your crest badge in solid 14K gold. Why own a sterling silver crest badge at all if not one that shines like the fine Scottish jewelry that it is!
Customize Your Crest Badge
Every Scottish clan crest badge we make is assembled and engraved upon receipt of your order and not before. This gives you the ability to personalize your crest badge with special touches. You can modify your clan crest or the clan badge motto or add engraving to the back. You can choose to wear your crest badge as a clan cap badge pin, pendant, bolo tie or belt buckle.
Our handsome clan badge display box lets you show off your Scottish heritage by hanging your crest badge on the wall with easy access to it for wearing on special occasions. In addition, we offer custom-made personal crest badge design services, as well as crest badges of rank as Scottish Clan Armiger badges, Scottish Clan Chief badges and Scottish Clan Chieftain badges.